Find accommodation listings:
or select a top Nova Scotia destination:
Display listings by accommodation type by using the menus at the top of the page
Find the best place to stay in Nova Scotia
You will find hundreds of things to see and do, places to stay, festivals, events, and attractions for you to experience throughout the province. Nova Scotia and the maritimes are a wonderful combination of beautiful scenery, lively festivals, small-town charm, fascinating history, and friendly and down-to-earth people. Drive through New Brunswick or come by Ferry through St. John. Take the CAT from Bar Harbor, Maine or the Confederation Bridge from PEI.
Nova Scotia is a great place to visit. Tour our coastal highways. Discover our parks, museums and wilderness areas. Sample our unique food, music, crafts and folkways. Relax and unwind in a place that puts a premium on community pride and family life.
We have been welcoming visitors for hundreds of years and Nova Scotia has been a vacation destination for more than a century. And we've earned a reputation for genuine friendliness and warm hospitality. Experience history and unwind in a heritage bed and breakfast or inn. Play a round of golf. Get romantic. Come discover your Nova Scotia in Atlantic Canada.
Listed under Lunenburg Bed and Breakfasts
Our home, built in the 1860's has the warmth and charm of yesterday and today. Located at the entrance to Lunenburg where the early settlers came ashore in 1753. From our home you can watch the ships come and go to their appointed destinations. we have four well appointed rooms which have their own ..... Read More ...
Listed under Sydney Bed and Breakfasts
Our new home is decorated in Victorian style with antiques and quality furnishings. Cable TV in each guest room. We are centrally located near downtown Sydney and two shopping centers. It is a 30 minute drive to the Newfoundland Ferry of the Fortress of Louisburg. Relax in the comfort of our ..... Read More ...
Listed under Amherst Bed and Breakfasts
Stuart House is the gateway to Nova Scotia. It is located along the Sunrise Trail; a country scenic coastal route along the Northumberland Strait. Enjoy the fresh sea breeze out on the front verandah. As a guest once pointed out "On a a clear day you can sometimes see PEI and NB while you are ..... Read More ...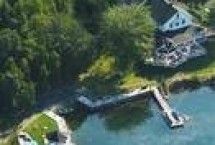 Listed under Halifax Bed and Breakfasts
The Romance of the Sea at your doorstep. Only 45 min outside Halifax International Airport or city, Salmon River House Country Inn & Lobster Shack Restaurant is nestled on the edge of wilderness. Many beautiful beaches nearby. Great Lobster Specials. Canoes. The Salmon River House Country Inn ..... Read More ...
Listed under Sherbrooke Bed and Breakfasts
The Lodge Bed & Breakfast: 7 rooms, (6 A/C), with queen, double, or 2 twin beds All with private bath, CBTV & VCR Complimentary Full Breakfast Located next to HISTORIC SHERBROOKE VILLAGE and a beautiful picnic park at St. Mary's River A few steps to Restaurants, Bank, Post Office, Drugstore ..... Read More ...
Listed under Lunenburg Bed and Breakfasts
Registered Heritage Inn (c 1880) located in the heart of the Historic District overlooking the water. Each of our 7 rooms expresses our strong commitment to Victorian Furnishings and is equipped with a private 3 or 4 pce. bathroom and cable TV. Recipient of Nova Scotia Home Award for Extraordinary ..... Read More ...