Find accommodation listings:
or select a top Nova Scotia destination:
Display listings by accommodation type by using the menus at the top of the page
Find the best place to stay in Nova Scotia
You will find hundreds of things to see and do, places to stay, festivals, events, and attractions for you to experience throughout the province. Nova Scotia and the maritimes are a wonderful combination of beautiful scenery, lively festivals, small-town charm, fascinating history, and friendly and down-to-earth people. Drive through New Brunswick or come by Ferry through St. John. Take the CAT from Bar Harbor, Maine or the Confederation Bridge from PEI.
Nova Scotia is a great place to visit. Tour our coastal highways. Discover our parks, museums and wilderness areas. Sample our unique food, music, crafts and folkways. Relax and unwind in a place that puts a premium on community pride and family life.
We have been welcoming visitors for hundreds of years and Nova Scotia has been a vacation destination for more than a century. And we've earned a reputation for genuine friendliness and warm hospitality. Experience history and unwind in a heritage bed and breakfast or inn. Play a round of golf. Get romantic. Come discover your Nova Scotia in Atlantic Canada.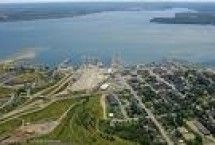 Listed under North Sydney Bed and Breakfasts
A comfortable bed and breakfast one block from the Marine Atlantic Terminal to Newfoundland. It is across the street from the bus terminal and overlooks Sydney Harbour. This large turn of the century house offers 7 rooms with private baths, a common room and front porch for those who like to sit ..... Read More ...
Listed under Mahone Bay Bed and Breakfasts
Peace and Tranquility only 5 minutes from Centre of Mahone Bay. 15 minutes to Lunenburg or Bridgewater, 10 to Chester & 5 to Oak Island. Historic Country Victorian home on Picturesque Waterfront Alpaca Farm. The pastures are filled with Alpacas (their fibre is 5 times warmer than sheeps wool and ..... Read More ...
Listed under West Berlin Bed and Breakfasts
Blueberry Bay Seaside Inn welcomes its guests to West Berlin, located along the Lighthouse Route on the South Shore of Nova Scotia. We have everything you need when looking for your vacation destination. We are just 60 meters (65 yards) from the beach on Blueberry Bay, have walking trails on site ..... Read More ...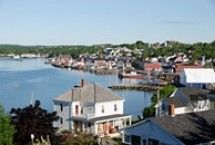 Listed under Lunenburg Bed and Breakfasts
Alicion Bed & Breakfast joins an emerging trend in the evolution of eco-friendly B&Bs. We promote the preservation of this gracious and historic estate while embracing green products and practices. For uncompromising comfort all 4 rooms are spacious and all with large private en suites. Orginally, ..... Read More ...
Listed under Windsor Bed and Breakfasts
The Clockmaker's Inn is located in the town of Windsor on the scenic and historical Evangeline Trail. This elegant Victorian Inn combines romantic historic accommodations with modern amenities such as cable TV, phones in each room, and wireless Internet access. Relax in the unique, nostalgic and ..... Read More ...
Listed under Baddeck Bed and Breakfasts
The Cape Breton Highlands are calling and we are awaiting your arrival. Stay at the Castle Moffett just five minutes to the beginning and end of the Cabot Trail. Castle Moffett spans a cascading brook on 185 mountainside woodland acres overlooking the beautiful Bras d'Or Lakes near the Village ..... Read More ...