Find accommodation listings:
or select a top Nova Scotia destination:
Display listings by accommodation type by using the menus at the top of the page
Find the best place to stay in Nova Scotia
You will find hundreds of things to see and do, places to stay, festivals, events, and attractions for you to experience throughout the province. Nova Scotia and the maritimes are a wonderful combination of beautiful scenery, lively festivals, small-town charm, fascinating history, and friendly and down-to-earth people. Drive through New Brunswick or come by Ferry through St. John. Take the CAT from Bar Harbor, Maine or the Confederation Bridge from PEI.
Nova Scotia is a great place to visit. Tour our coastal highways. Discover our parks, museums and wilderness areas. Sample our unique food, music, crafts and folkways. Relax and unwind in a place that puts a premium on community pride and family life.
We have been welcoming visitors for hundreds of years and Nova Scotia has been a vacation destination for more than a century. And we've earned a reputation for genuine friendliness and warm hospitality. Experience history and unwind in a heritage bed and breakfast or inn. Play a round of golf. Get romantic. Come discover your Nova Scotia in Atlantic Canada.
Listed under Yarmouth Bed and Breakfasts
This unique Italianate home was a wedding gift built in 1874 by the wealthy shipowner Captain John W. Lovitt for his daughter Mary Ellen and her husband George Guest. It is a charming and beautifully restored registered heritage property, tastefully decorated with period-style furnishings and many ..... Read More ...
Listed under Grand Desert Bed and Breakfasts
Located at 6627 Highway 207, 30 min from Halifax / Dartmouth in the village of Grand Desert. Highway 207 is part of the Picturesque Marine Drive Tourist Route, famous for it's beaches and Maritime History. Grand Desert and Chezzetcook, through the work of Interested Community Members has done a ..... Read More ...
Listed under Annapolis Royal Bed and Breakfasts
Recognized as a registered Nova Scotia heritage property, this beautiful 1881 Victorian was home to Sea Captain, Ship Builder, and Merchant, Captain Joseph Hall. Captain Hall's family ties to Annapolis Royal and Granville, Nova Scotia date back to sometime after 1760 when his great, great ..... Read More ...
Listed under St Peters Bed and Breakfasts
B&B right in the heart of Cape Breton on Canada's east coast and at the start of the "Bras d"Or Lakes Scenic Drive".St. Peter's is one of the transition points between the Atlantic coast and the Bras d"or Lakes. These two are connected through the historic St. Peter's Canal built ..... Read More ...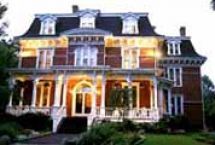 Listed under Wolfville Bed and Breakfasts
Transport yourself back to the Victorian days of sail without sacrificing the modern amenities in this beautifully restored sea captains mansion. The Blomidon Inn is a full service inn all bathrooms are ensuite there are two parlors two dining rooms two meeting rooms and a beautiful terrace. ..... Read More ...
Listed under Sydney Bed and Breakfasts
Make our centrally located charming home your peaceful retreat when visiting beautiful Cape Breton. On a quiet tree-lined street in the heart of Sydney, A Paradise Found is ideally situated for you to explore the island by day, enjoy the food and frolic of Sydney by night and relax in the comfort ..... Read More ...